Machine translation of Google Translate leaves this article
Thank you for stopping by. It is a Deme-san.
In the summer vacation of 2017, we have four families at the end of July and the Philippines spent a vacation at "Shangri-La Mactan Resort & Spa" in Cebu (exactly Mactan Island), so please report I also want to let you.


It became frightening and long. It is over 10,000 characters. . .
The table of contents may be helpful for the first time in the first place. . .
Let's tell you the safety of a typical office worker's perspective of "Shangri-La Mactan Resort & Spa" who went by children aged 0, 3 and 7
In the first place, is it safe to go to vacation in the Philippines?
Cebu Island in the Philippines is divided into Cebu, which is an urban area, and Mactan Island, which has a resort island. The Philippines itself is a country where security can not be said to be flattering.


As far as seeing the Ministry of Foreign Affairs' Overseas Safety Information. Cebu is a yellow region.
"Level 1: Please be careful." Special attention is required in order to avoid dangers when traveling to the country / region and staying.
This is extremely disgraceful, is not it?
Although the above is the capture of the Ministry of Foreign Affairs page, South Korea, China Vietnam, Thailand is okay. Although it is not here, Europe and the United States are also basically white. It is a dangerous country treated as a Philippine country than Colombia who is the birthplace of the drug king "Pablo Escobar".
Well, I agree with what I think before I went. I feel it.
"Shangri-La Mactan Resort & Spa" was safe enough to wipe out such concerns.
First of all, we used the shuttle bus from Cebu airport to Shangri-La Mactan Resort & Spa. Because it is a package of five family members, there is a possibility that it is very likely that you will be two if you get on a taxi, but it is also a country where there is a danger of taxi robbery in the first place.
It was safe as it was a late night flight that became dark even if it was midnight.
Because my family is important.
In addition, a policeman to a Seven Eleven that was on the way to a Seven Eleven hotel or hotel at the airport? Security guard? It is a noisy as it is resident in uniform.
And when entering the site of "Shangri-La Mactan Resort & Spa", it goes through a fantastic gate and gets on the premises.
There is nothing I can do if the shuttle bus of the hotel was attacked, but thanks to this service, I could move without anxiety.
The street of Mactan Island in the evening which can be seen from the shuttle bus was not flattering as a city that I could walk with having a child.
Because it was dark, because I was a child with a shuttle bus, I could not afford to take too much pictures, but I think that it may be thought that even a taxi can be ignored in the dark time.
Accommodation of "Shangri-La Mactan Resort & Spa" looks something like this
First of all, I would like to tell you the air of the customer, the staff's response, etc.
It was sensuous, but the image of customers as far as the schedule of arriving on Friday at the end of July and moving on Monday was 40% for Japanese, 30% for Korea, 10% for China, 10% for the site, and white people left.
It is noisy I am experiencing scatteredly on business trips in Japan. . . It seems that there were few Chinese people.
Anything packing a lot of bread or something in a plastic bag like buffet! I saw the disappointing Chinese people saw, but only a few.
For those who came from Japan, it seems that there are many people who are firm and well-groomed.
And the staff of the hotel. I think this is wonderful. I will say hello to someone who passes each other, a person who passes each other, "Good evenig" "Good mornig".
When I was sleeping with a baby hugging my baby, I was talking to you very closely with "So Cute! How old?" I was able to feel very hospitality.
It is not that I do not dislike it because it is politeness of a Japanese hotel man, but I feel that it was a wonderful customer service without me feeling disgusting at all for me, whether it is an image of Starbucks kind of familiarity.
Full of resort feeling from the receptionist, there is feeling of welcome, "Shangri-La Mactan Resort & Spa"

In fact it is a place I would like to put on a photograph that my older sister greeted with beautiful gorgeous yellow national costume, but let's say this is fun for those who went.
A 7 – year – old daughter is a lobby where there is space only for the roof with no outside, doors and windows, to the extent that many people say "there is no window, there is no window". It is a lobby lounge in front of you. Weekend was available until 24:00.


This is a bright time as it was taken at the time of checkout. Are those who come to the lobby floor seriously adopt models? There was a beautiful person or a handsome guy about it.
I want to take such photos, but my family's eyes, so …. If you are interested, I'd like to visit and see it.
When you check in, we have a welcome drink and a very tropical drink named Lemon ice tea.
Staff seems to have only one Japanese, basically English.
Because I reserved the printed paper I heard it, so there was no particular problem. When asked the name and answered, I was told that "There is a voucher?" And roughly proceeded when I put out the paper.
Also, I was told that "Services and restaurants are something like a service?" I thought that it was not necessary to listen too seriously and I said "okok, restaurant!"
What was it if it was not a restaurant remains a mystery.
I thought I had to study English again.
Room is really cheapest even in the cheapest room (Deluxe Room)! We enjoyed the resort hotel with five families.

Room type is the cheapest Deluxe Room.
Although saying it is the cheapest, it is a luxury hotel which will make about 50,000 yen including a one night tax if it is three nights and four days including Saturdays and Sundays.
At this price, if it is 3 nights, breakfast is made, as well as pool and beach, as well as unlimited use, so the ticket fee is suppressed by the land Mylar activity once a year! I decided to think that it was good and chose it.
Normally it is a room with a feeling of up to three people, but we ordered in advance the setting that we connected two single beds.
It seems that it was possible for five people to forcibly forced the child to cook sleeping OK and the baby OK. Since I was exchanging by email beforehand, I wondered whether it was a mistake.
We are pleased to know that you are interested in staying at our resort. As per your concern, Deluxe Room can accommodate 2 adults and 3 children (7 years old, 3 years old, 0 years old). Should you wish to ask for a baby cot or crib please put it in the comment form of your reservation.
I got such a mail and prepared a baby bed.


Also, because I was scared of water, I brought about 8 L from Japan, but mineral water from this PET bottle is also distributed every day. As well as during room cleaning during the day, as well as around the evening, you can distribute bottled water to guests as it is said to be "towel and water OK?"


The view from the veranda of the room was feeling like this.
If it is an ocean wing, it seems more sea can be seen, but myself was completely dissatisfied. I saw the ocean and the weather was nice too!
Of course, there is a chair on the veranda so you can unwind and unwind outside.
Also, I think that it is made to convey the feeling like a luxury hotel of the beach resort properly, such as firm beach sandals are prepared and bathrobes are prepared.
Zero Haliburton suitcase is a trouble! It corresponds also to such Ilegulla! I realized how impressive you do not bother the traveler.
There were some troubles.
Tiny guy said that the towel was not enough, that my daughter used too much toilet paper.
It is a feeling that I can correspond by telephone, "Pluto's toilet paper", "Plus one piece towel" at all. (I asked you a little more.)
Well, such a thing was not a big deal, but on this trip, it is awful! A trouble happened.
It is a case that "Zero Haliburton's number lock is broken".
When I closed out all my luggage and closed it, something was not closed properly, but when I closed it with a ratchet forcefully I heard a strange sound called "Chi!" That took number lock.
of course? I did not open it for the number you set. . .
I was out of luggage, so it was not hopeless so far, but it seems a bit tight to return with a souvenir.
So, if it is this hotel TSA lock key or not? I thought, I consulted.
"I am not locked but I am in trouble because I can not open it." (English)
Feeling like that.
Then, why
"Will you wait for a luggage engineer dispatched? Sir (English)"
Luggage engineer! What? I thought it was an engineer who came in about 5 minutes.
Besides, TSA lock key has also brought firmly.
However, it did not open yet.
I think that it was a breakdown of number lock.
So, that engineer
"I am sorry, Sir, can I call a fellow, can you forcibly open it?"
When. So, my friends arrived soon, I used five minus screwdrivers, I opened it, opened, Zero Haliburton 's number lock.
Originally, this number lock, if it is not a coin, I think it's broken so hard that I can not turn the number. . . Since I bought it.
I experienced that it will be healed rather than forced to force this time.
This absolutely can not correspond with ordinary hotel. Because, "Luggage engineers are not normal"
I was prepared to take full responsibility for the trouble with travel, I thought that it was awesome of "Shangri-La Mactan Resort & Spa".
The meal circumstances of "Shangri-La Mactan Resort & Spa" who went by children aged 0, 3, and 7 are like this
There were 6 food and drink shops that I used for my 4 nights stay this time. I would like to tell you the impression about that. It took a picture with a table at the child 's table for a while, so I could not take a lot of pictures, but forgive me.
By the way, even though I bought even my shoes, there were no people with long pants & shoes, and sandals were in the half pants with defaults.
Children can not enter, watching the ocean of the night Up Bar Opening store music while doing a late night bar "Waves Bar"

It is a seaside bar in a place to walk from a place where I stay a bit.
I was doing business at midnight, and since my child got to sleep on the first day, I also got a small one off, so I tried to visit.


You can also have this snack. A bit small burger, it was delicious.
A strange story, it may have been the most delicious at this hotel.
It is Mactan Tei that looks in the back.
It was Oasay Tropical Asty. It is also very delicious.
I can not drink alcohol, so at such times, blogger who can drink can be envious.


I can see a sandy beach like this.
The wave does not stand so much, so it's not like the sound of the waves.
Rather, the music in the shop was up tempo music and I was doing light juggling around 23 o'clock. God! God! Would it be charming that the bottle is dropped?
I was just alone to work, to work and watch Twitter, but I think that it is a good location, a feeling of air if you come with a couple etc.


The price is like this. It's hard to see it, but it costs about 400 yen for soft drinks, which is also profitable as compared with a luxury hotel in Japan.
Main dining is here, morning, afternoon and evening are multinational buffet style shops. "Tides"

The elevator of the main accommodation is a quick look. Capacity is also wide, and in the place of the buffet form, I suppose most of the meals of children 's companion will depend on here.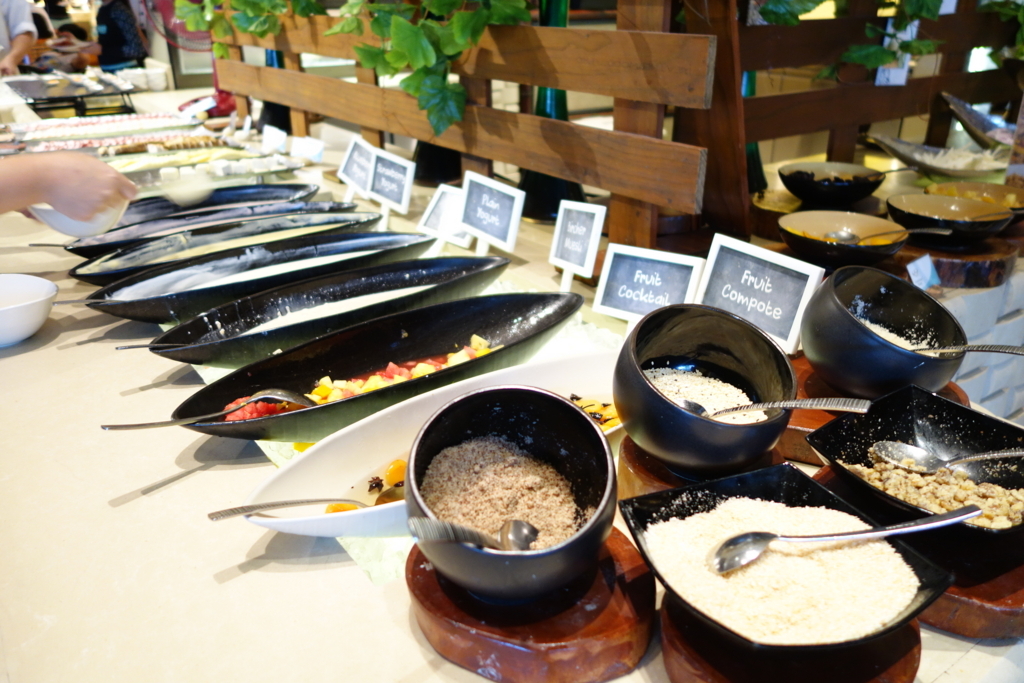 I do not have a good picture. . . I do not dare take pictures of Buffet!
It is a buffet style of international cuisine. Personally I felt delicious the combination of noodle bars, Chinese fried rice and fried sushi.
To be honest, it drops several stages compared with the buffet of a good hotel in Japan.
I think that this also has personal taste problems, but I can not deny the impression that the spices are overall tightened and the taste is deep. Carbonara and other things are not unpleasant, but feeling of something was amazing.
However, I took breakfast 2 times, lunch 2 times, dinner 1 time here.
My wife said that the curry was delicious.
Children were supposed to outpace with cornflakes, bread, ice cream and bananas. It was nice to have ice cream for children. . . Is this because it is a seasoning overseas?
At dinner time, it is a shop with a feeling that employees do dance vigorously or what they say is a nori's good overseas hotel restaurant.
Due to the large number of choices of buffet, it was restaurant that this restaurant would be main for children.
Dinner which also carries out ethnic dance etc. is here, "Buko bar"
It is a shop offering snacks on the poolside. We did not ask, but we could order from the benches located beside the pool, and we were able to order hamburgers and potatoes as well.
Music and dance of local people instead of taste for dinner time? It is the deployment in a buffet style at a shop that will be expanded as well.
I could not take too much photos ,,,,. There are barbecued pork like this.
(Incidentally, the roast baking of this pig seemed to be a famous Philippine, and it was offered also in the previous tizz.)


It is more impressive in Southeast Asia and more spice than here, so I think that it would be very good if I wanted to feel the Philippines, but it was a shop with an impression that it was a bit hard for children. The price was not much different from Tights.
If I am not a child, I would drink alcohol while eating such ethnic dance and eat slowly, it was a shop that would be better to spend such a time.
This is a beach resort shop! "Breeze"

It is a shop that my child dropped in with a baby because my child wanted to play with my wife.
It is located on the beach side, and had a drink with a very open air. I wanted to have lunch for a burger here, but I could not persuade a child who caught in a pool, weeping, do not use meals. . .


It is the strongest white sand beach, blue sky, lunch while watching the ocean that I liked.


It's really cool like seeing such a sea. It is great that you can not drink alcohol.
This is a beach resort.
Although it is not open until dinner time, there may be early dinner at dusk.
Is there a better place for a better Annex Ocean Wing? A clean restaurant! "Aqua"
Apart from my main wing I can eat even guests of Aqua, Main Wing which is a dining ocean wing with a beautiful view.


Although it flew away with too much backlight, in the side of the pool, we had breakfast buffet while enjoying the blue sky.


You can dine while watching this swimming pool dedicated to Ocean Wing.
It is small and fashionable than Tides, it is beautiful, but the selection was slightly less. Although the taste does not change so much honestly, the child was attracted to the Tides with ice, and this use was only once.
Because it is an Italian restaurant at the time, spicy Asian food is few.
My individual was a restaurant with a bright impression like this one.
I can relax while listening to live music. "lobby lounge"

I wanted to work on a computer a little on the second night, so it will be the shop where I dropped in after a child slept.
I was playing live and it was very nice air.
Because it is the lobby of the colonnade, I was able to spend with the calm air while feeling the air of the tropical nights steadily. Price It's a shop that you can spend as much as 400 yen at this coffee latte and want a little time of yourself as a typical salaried worker and have a very good time.
I think nearly at the main store in 6 stores here. I also wanted to go to "Kowley Cove" and "Tea of ​​Spring", but a little ordered dinner was challenging for children, so it's a pity.
Of course, it costs as much as it is, but I think that it is "Shangri-La Mactan Resort & Spa" which has plenty of shops to fully enjoy the resort meals while staying.
A pool where you can have fun with your children! This is a beautiful beach of Tropical country! Asia's largest spa! , I would like to introduce the facility where the resort is completed
Main pool zone where I spent most of my stay during the 3 nights 4 days stay

The pool itself is not that wide.
This water gun is a thing that water keeps going out forever when turning a steering wheel like the access of a motorcycle. My sister and younger brother are playing together funny.


This side is a pool with a depth of 2.3 m. You also did a diving course here.
To the observer's staff
"Can I dive in?"
I heard that
"Of course! Sir!"
He took his thumbs up.
There is almost no pool to jump into in the Japanese pool, so we jumped into the extent that it was not too cheap.
pleasant !!!
Total about 5 times. Lightly rush up and dive! It is not something you can do when you turn 37.


The slider that the 3-year-old son continued to slide endlessly is here. I see a son, who heads towards a unreligious towards the red slide. At first I was a bit scared, but I got really stuck in when I went once.
It would have slipped 100 times in total. It was round and round since I closed the second day and finished the morning of the last day until closing.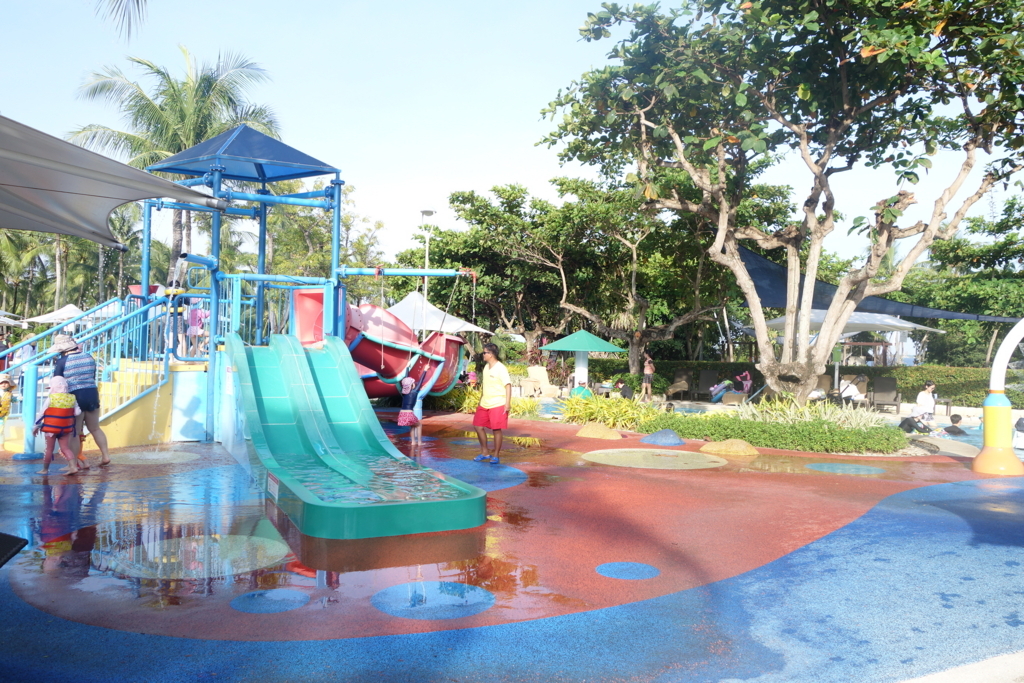 From another angle there is also a shorter slider that is even smaller even a child.
The watchman also monitors properly, once you slide the red slider with your child once,
"Children only, Sir"
I was warned. I got scolded, It was fun even this once.


The slider of 5 to 12 years old is here.
A seven – year – old daughter was hard to get involved with this slider at first, but it seemed like it was fun when I could go, seems to have been sliding about 20 times.


Well, I also want to do adults.
However, I think that this hospitality is the feeling of this child priority.
Furthermore, there is always a bench under the umbrella, you can relax. Saturdays and Sundays were crowded indeed, but still it was possible to relax if it was a sunny place.
Although it is hot.


I took it at the pool side last sunset. Such coconut tree is everywhere, the sense of south country is amazing.


It was difficult to hold down such a parasol indeed.
I ate slowly with rice, so it was not possible to take weekends at all.


Coconut juice was on sale. Both breakfast and lunch will be full, I did not drink with rice at all, but I do not drink it, but I think there is a need to come by day use.


Towels can be rented for free here. You feel like you can borrow as much as you want.
There are quite a lot of boxes to return the towel and it is feeling that it can be exchanged abundantly. It was really comfortable feeling.
The private beach of the picture "Shangri-La Mactan Resort & Spa" is also very nice

The way to the beach is well organized, and the sense of uplifting towards the open beach will continue.


It is a really blue sky, white sandy beach.


Even from a standing position this feeling. Fish seems to be normal.


I also had a waterproof digital camera, so if you take a little face and shoot it with this feeling.


The contrast between the sea and the sky and the sandy beach was very nice. This is also a waterproof digital camera.


There are limited number on the seaside, but there was also a tent. There is a bench in it and it feels relaxing.


I guess paraglider or something feels good. . .
Besides here, the activity was full of jet skiing, banana boating, snorkeling and diving, of course.
It is a thing that you would like to play like a child as a junior high school student.
Because the kids liked the pool too much, we could not relax on the beach, but there are people reading the book at ease, how to spend such a resort, luxury! You do not have to eclipse! It was a beach to think.
Although I could not get through to the inside, Chi Spa feels like exoticism a bit

If you walk a little from the pool this proposal will spread like this.
There are plenty of tropical plants, it is a nice feeling of air.


I will enter this kind of building.


One by one, majesty.


I took a price list.
The price is 3,500 pesos, 8,500 pesos even for 2 hour course. If it is a feeling of Japan, it is not so, but if you think about the Philippine price, it will be quite expensive.


The feeling of reception at the reception is like this. It is a shame disappointing with a little bit. . .
Actually, it was a very good air feeling.
Perhaps the glossiness of the Japanese madam was impressive, as it was over and passed by. My baby came in with three babies, so my wife was not able to fall as expected, but as the child grows a bit further, I would definitely like to tell you that I should come and have a wonderful sign.
A worrisome facility as a resort hotel is a very cozy space

For example, the trash can look like this. Recycling, non recycling, others in the garbage can feel like it, Mr. staff was confirmed.


It is a picture taken asleep on the bench. The weather was really good on all the schedules, the sun was very strong. For the first time, I thought that the palm tree is very good as a sunshade. I guess you are thinking about placing these benches too.


It will become a picture like a hammock.


It may be hard to understand, but there was also a minigorgus. Something like 60 yards. Is it 9 holes? Although I did not look properly, there are also putter golf courses and others.


Also, a table tennis table and sand back. There are chess in the back. I wonder what kind of people use such equipment.


Spots that can talk while watching the ocean in the shade also seems to be just right for those coming in 3 generations.
It was really nice to have all the weather, so we did not use the room facilities at all, but we had a solid kids room for kids and there was also a 24 hour gym room.
Because there was a shop like a little convenience store, I think that it is unnecessary to dine all the meals at a high hotel restaurant.
Also, the shuttle bus was not only in the airport but also in the city area.
Although it is an urban area of ​​Cebu Island where it is easy to go with children, if you are staying 3 nights if you are adults, it would be an option to fully enjoy the air in Southeast Asia.
I will stay at a resort for 2 weeks on vacation abroad! There were various facilities to think that there might be such a necessity surely.
I would like to summarize the "Shangri-La Mactan Resort & Spa" convincing that it is number one resort in Cebu
After looking at various reviews and articles, the height of the price worried and as a result I selected and visited.
There was also a review of negative comments, but English is necessary to be able to feel so if you can not speak English. I like to tell children that English is necessary, but it is convenient because it is overseas travel.
When asked by "beautiful staff" "What is your name?", I was really happy as a father when I saw a 7-year-old daughter saying "My name is ~ ~".
And I think that being blessed with all weather during my stay was a real happy thing for the first land Mylar resort.
Based on that, I feel that it was a wonderful hotel that I would like to visit again at "Shangri-La Mactan Resort & Spa."
I felt that he was keen on making a safe and comfortable space than anything, and thought that it was a hotel made considering a child.
Of course, I'd like to experience more hotels, so next year again! I think that it will not be, but when the child becomes bigger and you can enjoy activities, I would like to stay for about a week, "Shangri-La Mactan Resort & Spa"
Hawaii, Guam, Thailand, Australia, Singapore and many other fun countries, I think there are resorts, but there are few miles to land Mylarly, Cebu, Mactan Island.
Among them, there is no doubt that it is said that it is the finest hotel "Shangri-La Mactan Resort & Spa" By all means it was a story that you would think that other people would also experience.